Palenstinian Ecology Solidarity
Roots الجذور is a 24 hour broadcast marathon about Palestinian ecology and solidarity, exploring the relationship between human and ecological devastation. The broadcast features sound, music, and conversation from Palestine and its diaspora and support networks in London and Amsterdam. The transmission is translingual - in Arabic and English.
The Broadcast was featured as part of BIENALSUR (an international art biennale of the South), and was co-produced by Radioee.net in collaboration with the Faculty of Art, Music and Design at Birzeit University,  Radio alHara, uncommonsessions, Disarming Design from Palestine and students at Birzeit University (Palestine), Central Saint Martins MA Narrative Environments (London), Central Saint Martins MA Cities (London), and Sandberg Institute MA Disarming Design (Amsterdam).
Roots in London
A Palestinian Walk Through London
As part of Roots programming in London, Spatial Radio has designed a listening walk in London. This walk traces a path that Birzeit Students and other community members walk on Fridays through Sebastia, Palestine. These walks are often led by young Palestinians to educate others about the land and Palestinian history. We superimposed the walk through Sebastia over the London landscape, locating it with sites of Palestinian diaspora within London as thestart and end points. The starting point, ShakeShuka, is a Palestinian kitchen renowned for its Knaffer, a wonderful cheesy dessert. The walk ends at the Curzon Soho, one of the homes of the London Palestine Film Festival, which features  our guest Sarah Beddington's Fadia's Tree and will be playing Eyal Sivan's Jaffa, The Orange's Clockwork on Monday night during our broadcast.
Spatial Radio and Birzeit students collected audio from these walks and edited them together creating an sonic representation of the merging of these walks. This was broadcast as a part of Roots on Monday the 29th from 11:30-12:30 GMT. A group walked a portion of this route through London in solidarity as the listened live to this portion of the broadcast.  
Though this event has past, we invite you to walk this route as you listen to this audio experience that bridges a London and Palestinian experience.
Segments Produced By Spatial Radio
Bird Superhighways: A conversation with Fadia Lobani and Sarah Beddington
Sarah Beddington is a British artist and filmmaker based in London. She primarily makes art films that bridge the personal, social, and political often exploring themes of migration. Her most recent film Fadia's Tree was part of the London Palestinian Film Festival this year.
Fadia Lobani, a Palestinian refugee living in Lebanon, is stranded by history on the wrong side of the border, yearning for the ancestral homeland she is denied. In this discussion, she discusses her relationship to her homeland in conversation with her friend Sarah. 
Fashion Across Borders: a conversation with Ayham Hassan
Ayham Hassan is a first year at Central Saint Martins from Palestine. He studies BA Womenswear and explores fashion as a tool for fantasising new realities.
Archeological Terrorism: a conversation with Dima Srouji
Dima Srouji is a Palestinian architect whose work examines archaeology, the ground, the artifact, and the ways in which these are used to manipulate and silence narratives and histories. She expands traditional definitions of architecture, working with glass, mapping, archives and film.
Solidarity in London: conversation with Roua Nabousi, Muna Dajani, and Socha Thompson
Community Care: a conversation with and musical performance by Omar Hmidat
Omar Hmidat is a community organiser, filmmaker, and transdisciplinary researcher from Palestine. He holds a master's degree in Forensic Research Architecture from Goldsmiths. His general research practice posits space as central to questions of identity, memory, and social transformation and justice, and is situated at the intersections of the Architectures, Humanities, Human Geography, and Critical Social Thought.
More info
Views From the Studio and Beyond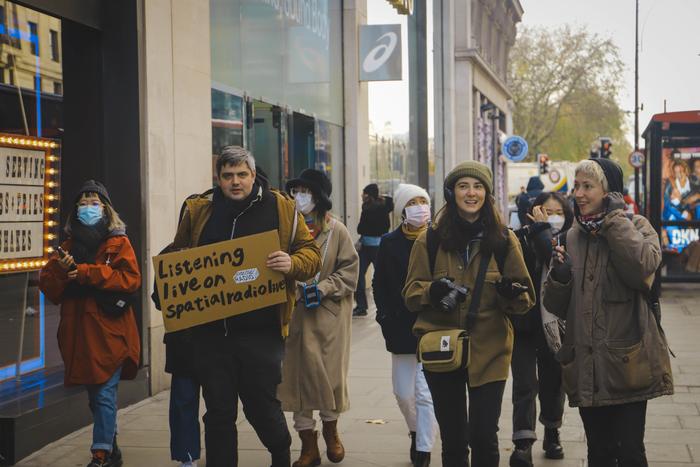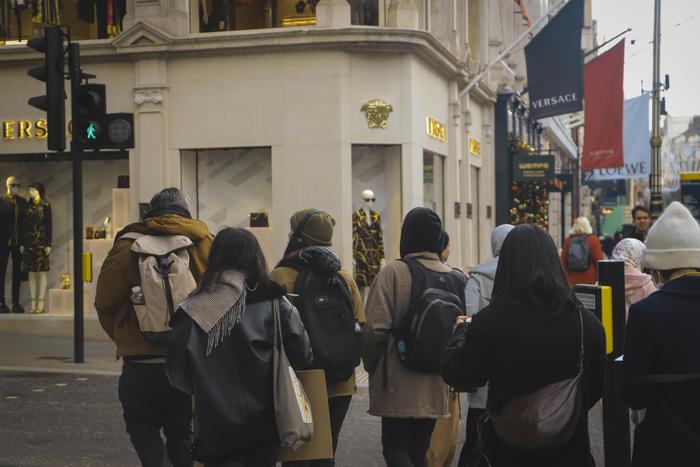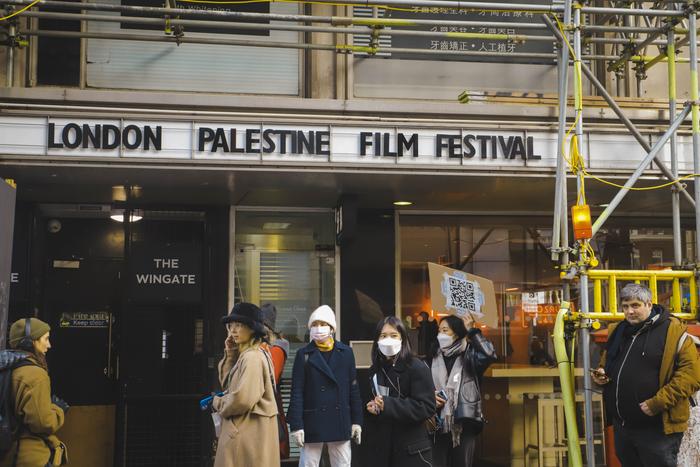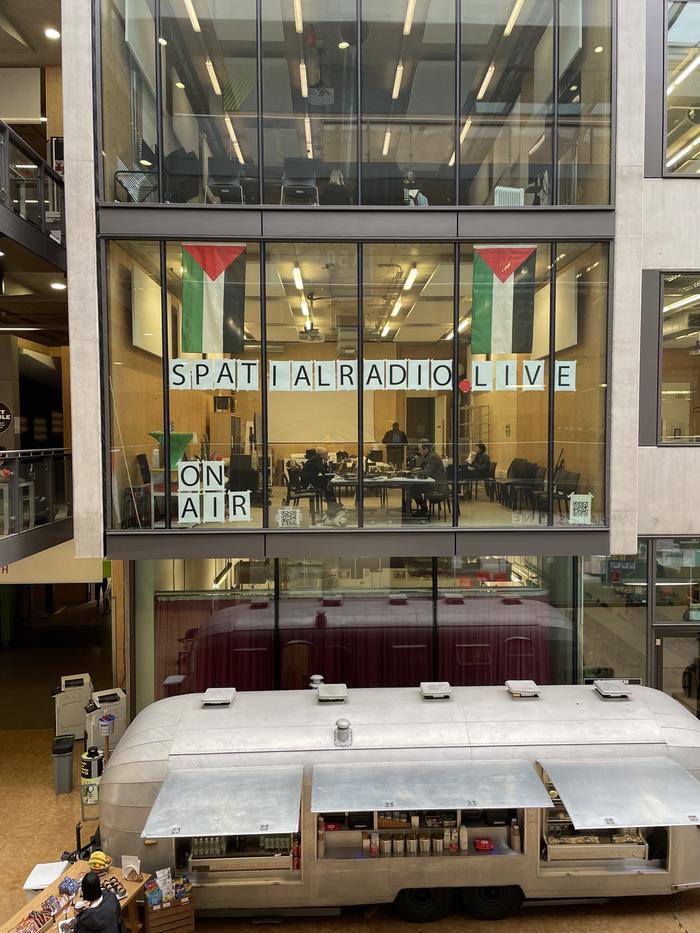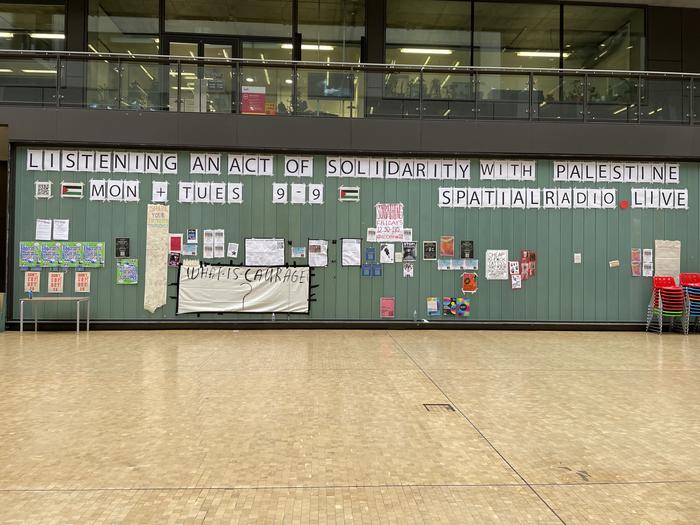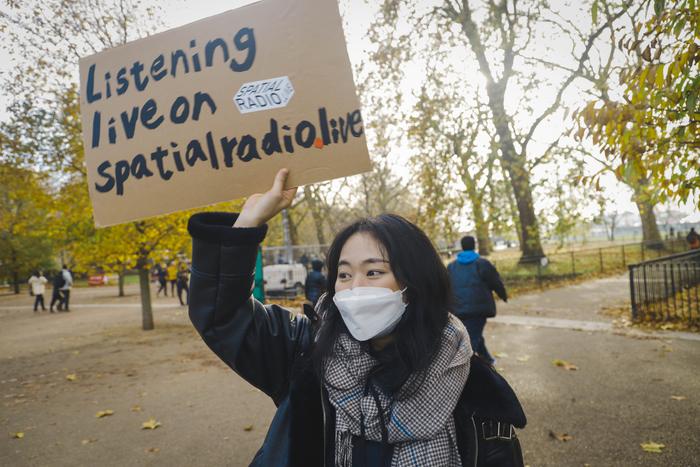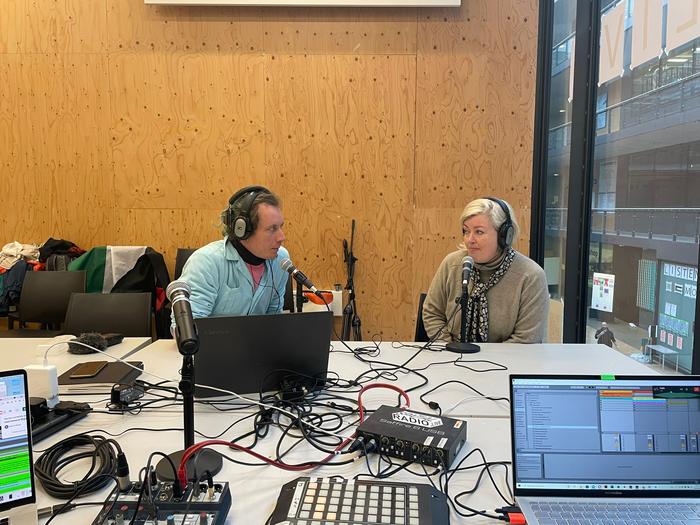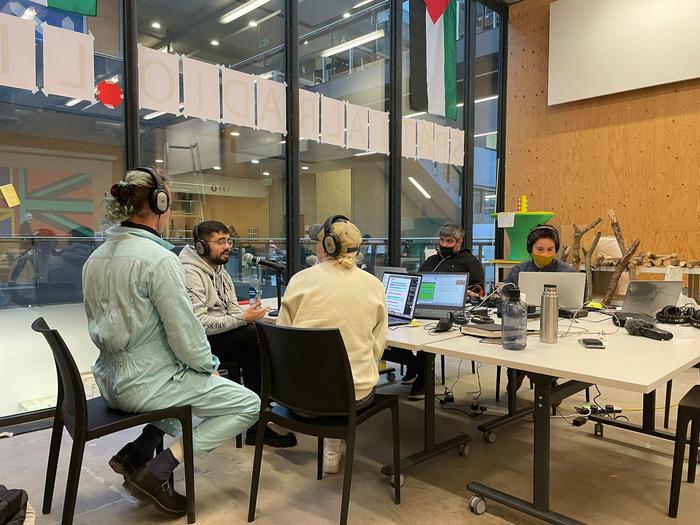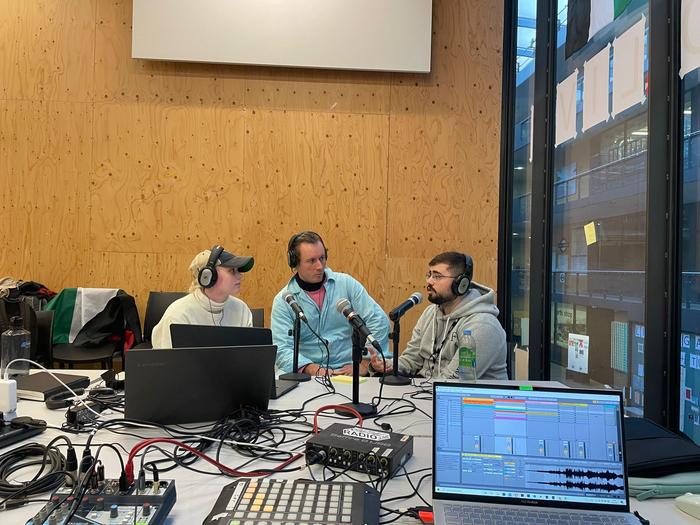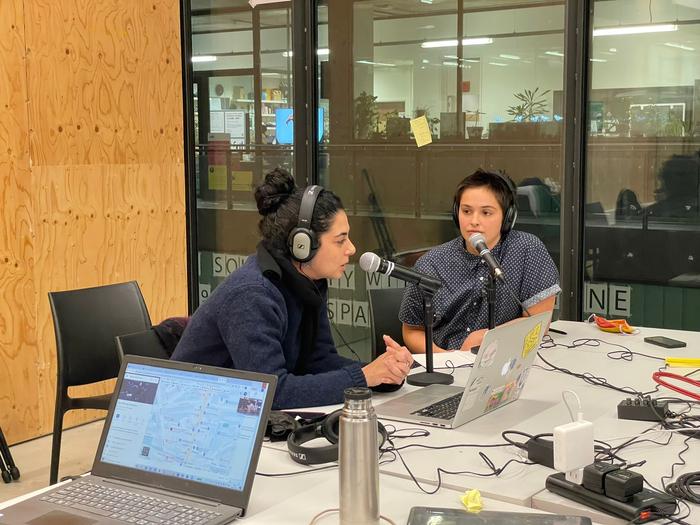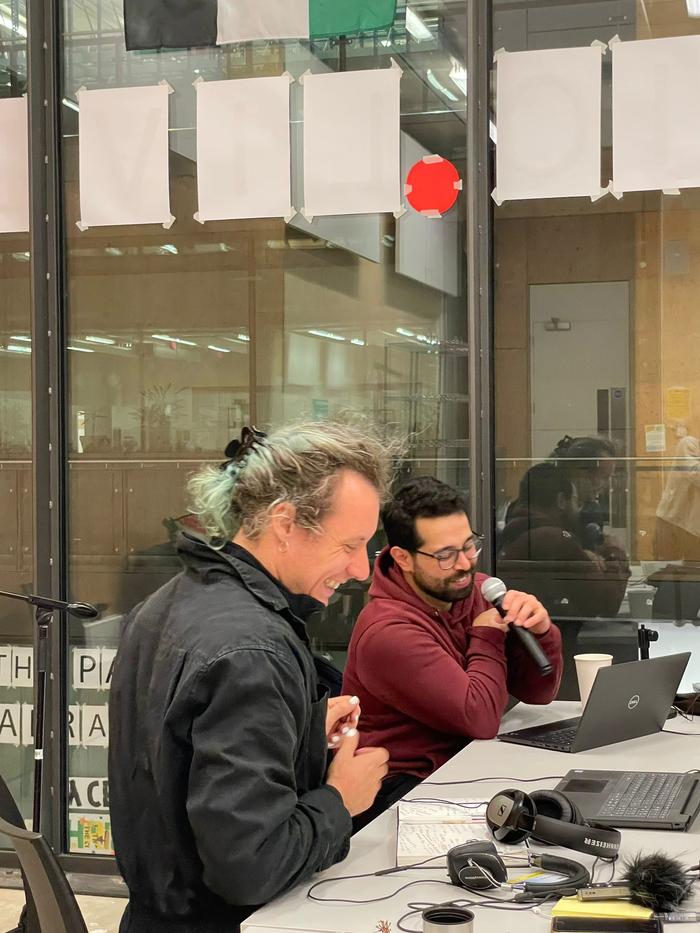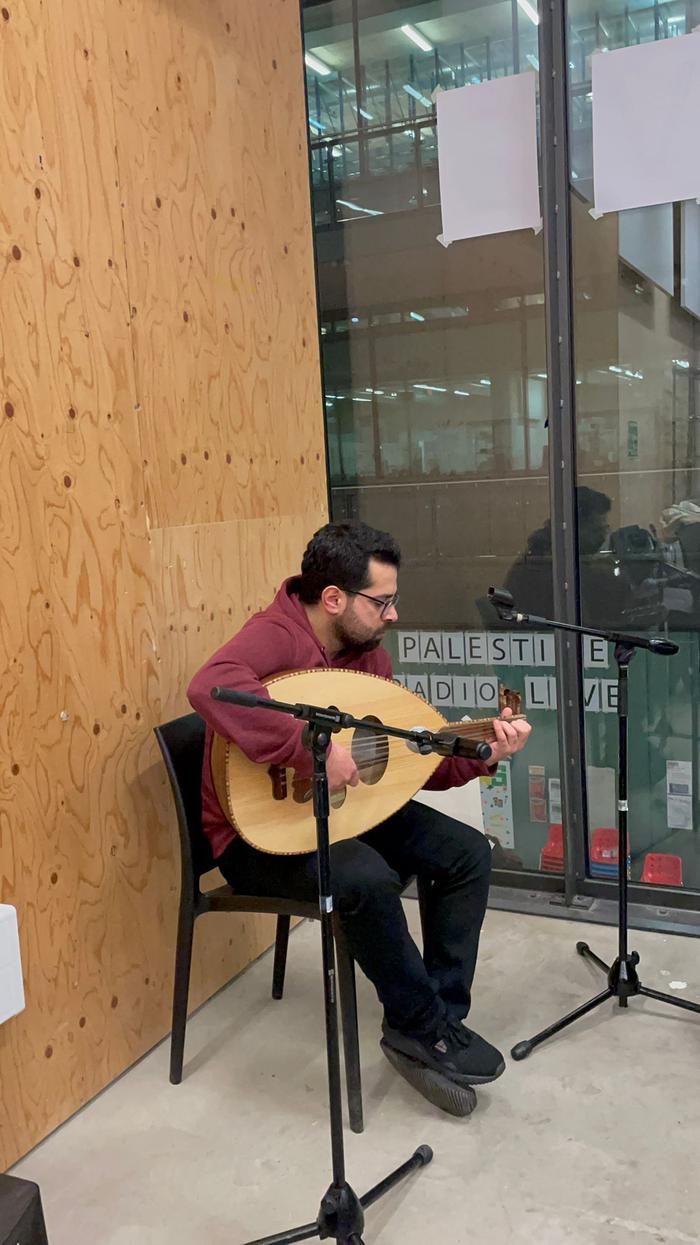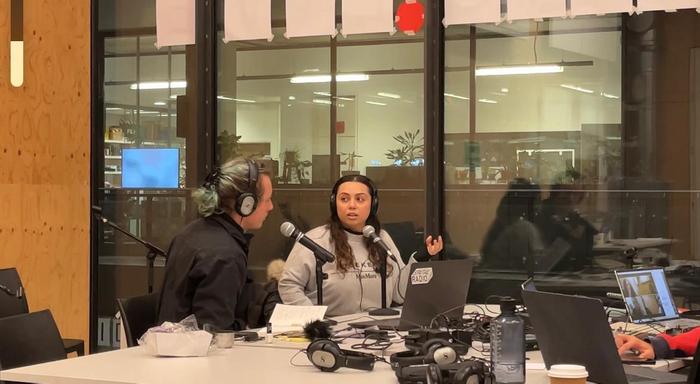 CREDITS
HOSTED BY Birzeit University
LOCATION London, UK
POSTER BY Mothanna Hussein